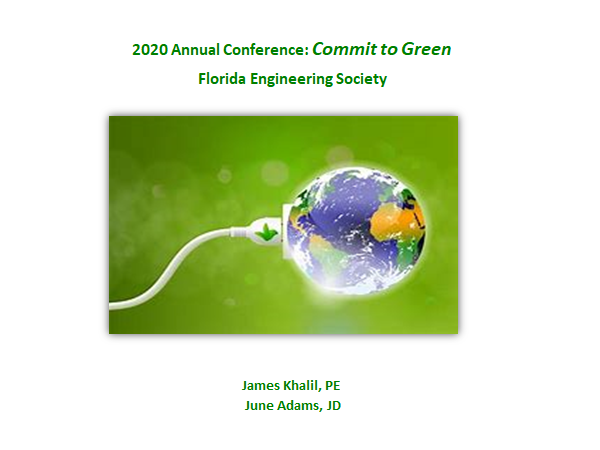 Join Us! PowerCalc presents Commit to Green: The Conductor is the Link to Save at Least 7% of Electrical Energy Use.
When: Tuesday, September 8, 2020 from 2:00pm – 3:00pm.
Course Description: "The idea is novel... no Code I am aware of addresses optimization of electric delivery and distribution systems...before a building is complete." Grant Reviewer, US DOE. Whether the power grid or a building's power distribution system, the conductors/wires that transmit electricity are the single largest link between the generation and end-use consumption of electricity. We will examine the math in engineering equations and several buildings.
Speakers: Mr. James Khalil, PE and Ms. June Adams, JD
Biography: June Adams, JD: Passionate leader of technology startup. Strategic thinker with over 20 years of experience as an attorney and executive in major corporations. Co-founder of a company whose vision is excellence in engineering with the goal to design power distribution systems to function optimally in buildings, college campuses and industrial facilities.
James Khalil, P.E. is President and Inventor of PowerCalc. He has 30+ years of experience at Florida International Consulting Engineers, his MEP firm in Delray Beach, FL, and Carter Burgess (now Jacobs) in Fort Worth, TX; Mason & Hanger in Lexington, KY; and Gee & Jenson (now CH2M) in West Palm Beach, FL. He received his B.S. Electrical Engineering from the University of Texas. His experience includes projects for Saudi Arabia and Dubai.
You can register for this event by clicking on the hyperlink below:
Event Registration: Commit to Green: The Conductor is the Link to Save at least 7% of Electrical Energy Use
Pricing:
| | |
| --- | --- |
| FES/ACEC-FL Member Price | Non-Member Price |
| $35 each or $25 each as a package ($200 total) | $70 each or $60 each as a package ($480 total) |
*You must be logged in to your member profile to receive the member price

And remember, we have a free live / real time demonstration on the first Friday of each month: FREE Demo, Friday, Sept. 11th at 12 pm EST And here is a video of a recent demo https://www.youtube.com/watch?v=gDQgCOu2_LA Hope you will join us!
Thank you for your support! Stay well.