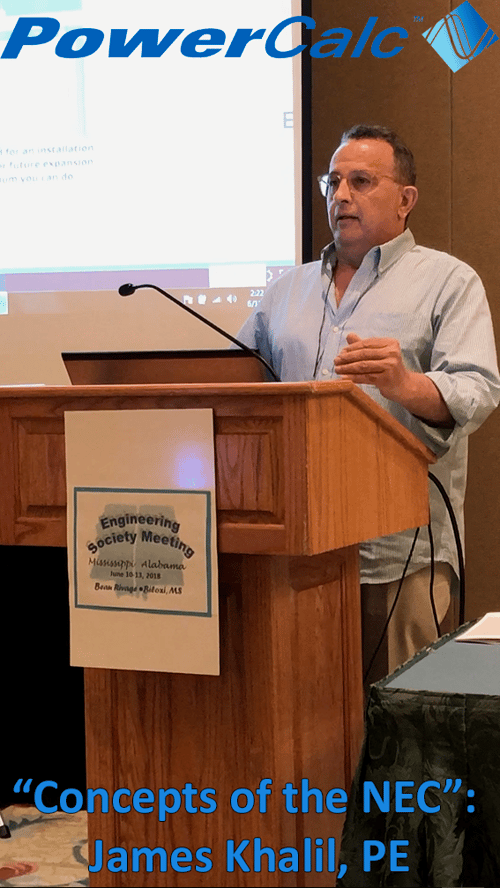 James Khalil, PE inventor of PowerCalc reaches out to 300,000 listeners on ElectricianLIVE. The podcast is scheduled to air on Saturday, February 22nd at 7 PM EST, 8 PM CST, 9 PM PMT and 10 PM PST.
Paul Abernathy runs the podcast and is a recognized expert and educator on the National Electrical Code (NEC). You can join on Master the NEC or ElectricianLIVE. No signup is necessary.
Past accomplishments are great, but PowerCalc's innovations are ongoing. On ElectricianLIVE, James will announce the launch of PowerCalc's new Industrial/Manufacturing Package.
This adds even more "firsts" to PowerCalc's long list of innovations: design of Automatic Transfer Switches with Generators (ATSs); Motor Control Centers (MCCs); Doubled Ended Switchgears; and Unit Substations. Expected release date is late March, and we are excited to tell you all about it.
PowerCalc's industrial package can automatically do the electrical design for the most complex of manufacturing, processing, and operating facilities for any industry.
James answers the following questions:
What is PowerCalc?
How does PowerCalc comply with the NEC?
Tell me about how you put together PowerCalc's data base?
Tell me about PowerCalc's 1 Line Diagram...how is it generated?
PowerCalc is getting ready to launch its new Industrial / Manufacturing software, tell us about your new software package...what does it do and when can we expect to have it available?
You will hear all the details on how PowerCalc's database was written to provide fully populated NEC lookup tables, instantaneous updates for changes in your design and project, and its automatic and simultaneously generated 1 Line Diagram.
Florida Engineering Society
And mark your calendars for Thursday, August 6th. At the Florida Engineering Society's Annual Conference, PowerCalc presents: Commit to Green: The Conductor is the Link to Save at least 7% of Electrical Energy Use.
PowerCalc focuses on the conductor; the single largest link between the generation and end-use consumption of electricity. In the context of energy savings movements, it is time to look at the conductor: residential and commercial buildings consume 75% of the national electricity output and an estimated 30% of drawn energy is lost as heat.

We look forward to meeting you!
And remember, we have a free demonstration on the first Friday of each month: FREE Demonstration Friday, March 6 at 12 Noon EST Hope you will join us!
Thank you for your support!