In response to your requests, here is a link to the video of last Friday's demonstration of PowerCalc. There was a good turnout with lots of great questions. For those of you who were unable to attend, here is the link: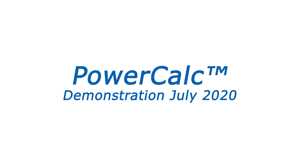 PowerCalc Demo: July 10,2020
Just so you know, we are available for individual or group demonstrations in real time whenever convenient for you. Just let us know and we'll make it happen.
Also, upon request, we are available to demonstrate how to use PowerCalc for better design build estimates, to save energy, and more (like how our cloud system works for an enterprise). These applications were not demonstrated last week so are not included in the video shared today.
A Few Announcements:
The US Green Building Council of Los Angeles has just named PowerCalc one of 17 companies participating in their NetZero Accelerator. We were selected out of 164 applications from around the world. More on the NetZero Accelerator in future newsletters. We look forward to sharing all that happens.
Join us at the Florida Engineering Society's Annual Meeting on Tuesday, September 8th at 2 pm. Our topic: Commit to Green: the Conductor is the Link to Save at Least 7% in Electrical Energy Use. We will be expanding our discussion from the limited subject of the conductor to also include the electron's journey through the conductor. Like

PowerCalc

, the new field of spintronics in the electronics world, focuses on limiting energy lost due to the generation of heat when electrons are distributed through a wire.
Just to continue

PowerCalc's

hectic pace, within the next 4 weeks we launch our industrial package: the first software to automatically design Automatic Transfer Switches, Motor Control Centers, Double Ended Switchgear, Unit Substations, and more. All will be indicated in

PowerCalc's

automatic and simultaneously generated 1 Line Diagram.
The industrial package joins our long list of "firsts":
(1) first electrical design software in the cloud (Product of the Year 2016, Consulting Specifying Engineer) (one and only) ;
(2) first to design from the circuit out to the service entrance (bottom-up) for calculations based on the actual demand and connected loads / never on estimates (exactingly accurate);
(3) first to have just 3 inputs per circuit for over 300 NEC compliant outputs (load kVA, # of poles, and load type) (incredibly easy);
(4) first to have automatic and simultaneously generated 1 Line Diagram (Product of the Year 2019, Consulting Specifying Engineer) (technology magic);
(5) first to save at least 40% in design time (very fast);
(6) first to have an energy module to save at least 7% in energy use (optimizing electric energy before a building is completed) (green innovation);
(7) first to use the US Army Corps of Engineer's panel format (best practices observed);
(8) first to mirror the NEC's structure: branch circuits / conductors, equipment, and special occupancies (the automated NEC).

PowerCalc not only designs the power distribution system in a building, but can be used to maintain an inventory of electrical equipment and design for facility management.

And remember, we have a free live / real time demonstration on the first Friday of each month: FREE Demo, Friday, August 7th at 12 pm EST Hope you will join us!
Thank you for your support! Stay well.